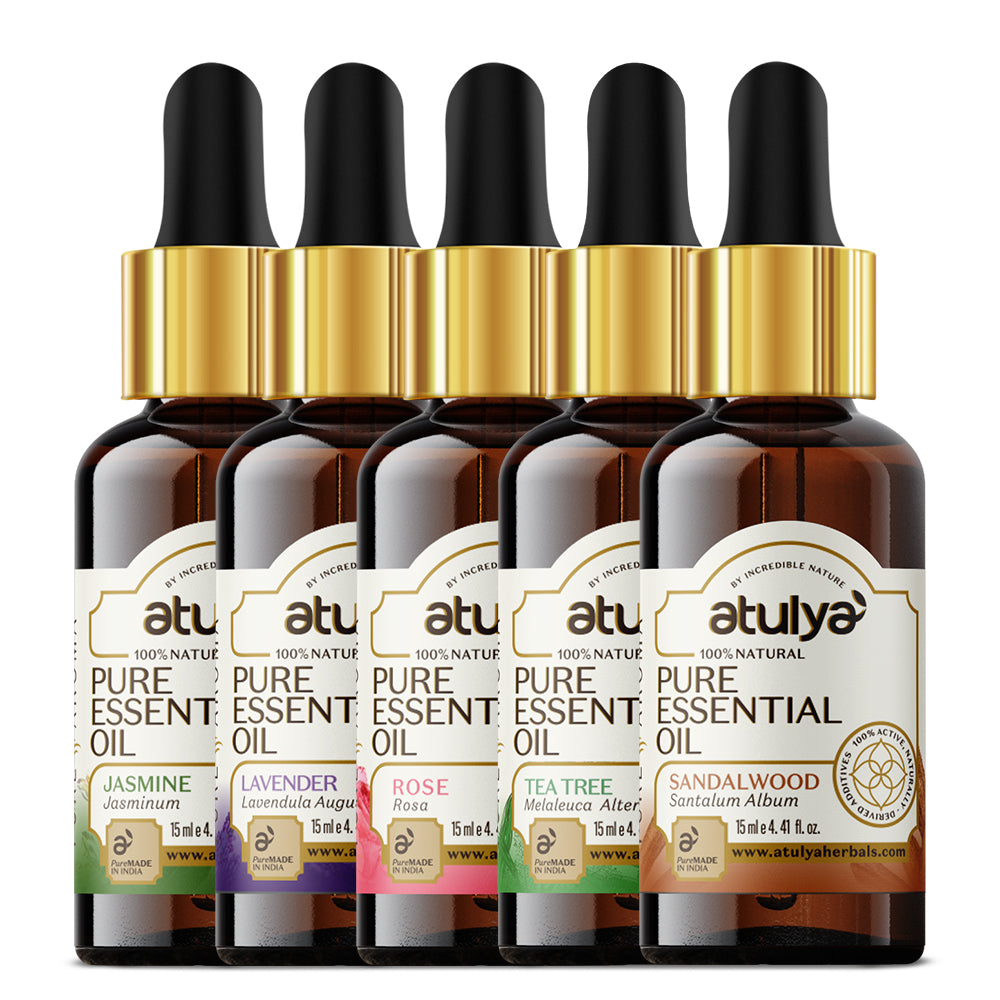 Atulya Tea Tree, Sandalwood, Lavender, Rose & Jasmine Essential Oil (Pack of 5) (15ml x 5)
Regular price
Rs. 2,495.00
Sale price
Rs. 1,871.00
Save 25%
/
Tax included.
Shipping
calculated at checkout.
  Tea Tree Essential Oil is extracted from the leaves of Melaleuca alternifolia (Tea Tree)...
Tea Tree Essential Oil is extracted from the leaves of Melaleuca alternifolia (Tea Tree). It is perfect for aromatherapy as it has a fresh minty and vibrant aroma. To reduce acne, add a couple of drops to your moisturizer and apply it to the acne affected area. It may also be used as ear stretching oil, facial oil, hair oil, makeup remover, for nails or even as a massage oil for facial acne. Antioxidants help to reduce blemishes, dry skin, rashes & stretch marks.
Atulya Sandalwood Essential Oil has an attractive fragrance used in rituals, massage oil and lotions. The aroma is a wonderful way to recharge your intimate living spaces while empowering the body with a calming, reinforcing & grounding impact. Generally used as a product for skincare, it has a beautiful fragrance that helps relieve tension. It has a moisturising effect on the skin. By combating acne marks, dark spots, blemishes and enhancing the overall texture of the skin, evens out the skin tone. 
Atulya Lavender Essential Oil is natural, pure and undiluted. It is historically known for managing acne, inflammation and lightening other blemishes from the skin.
Atulya Rose Essential Oil is absolutely exquisite and has countless glorious uses and advantages.
Jasmine Essential Oil is the best approach to improve your mental and physical wellbeing. It has a delightful fragrance that uplifts, relaxes, soothes and boosts self-confidence, tropical, floral. It is most widely used for body and facial all-purpose scrubs, bath salts, perfumes, candles, massage oils, and much more. It contains all sorts of good hair ingredients that nourish and strengthen your hair, such as vitamin E and magnesium.